This article is about the pilot episode. For the TV series, see Stuck in the Middle.
Stuck in the Middle is the first episode in season 1 of Stuck in the Middle. It aired on February 14, 2016 to 2.8 million viewers.[1]
Overview
Avid inventor Harley is all set to accept a community award, but must first devise a way to get her family out of the house and to the ceremony on time.
Cast
Main cast
Guest cast
Trivia
This episode is the preview that aired at 8:45pm after the network premiere of Frozen.
All the kids and parents are introduced.
Harley tricks her family by yelling donuts when there is no donuts to get them downstairs.
Harley tries to get everyone out the door in time because there is something important that is going to happen to Harley at the park.

But the family has to first go the soup kitchen and take Rachel there.
Then they have to go to Georgie's basketball game.
Then they have to go and bring Rachel home.

The Diaz family gets to the park late.
Harley invents a table that has room for her large family.
International premieres
April 15, 2016 (UK and Ireland)
June 10, 2016 (Spain, Portugal)
July 4, 2016 (Israel)
August 6, 2016 (Latin America, Brazil)
September 3, 2016 (Hungary)
Gallery
| | |
| --- | --- |
| | To view the Stuck in the Middle (episode) gallery, click here. |
Video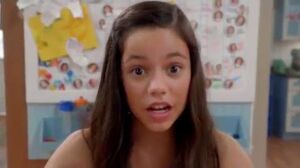 References
Ad blocker interference detected!
Wikia is a free-to-use site that makes money from advertising. We have a modified experience for viewers using ad blockers

Wikia is not accessible if you've made further modifications. Remove the custom ad blocker rule(s) and the page will load as expected.